In the tasting room entrance, on display is the Medicine Creek stagecoach. The stagecoach is a product of twelve years of work by winemaker Jim Myers. Prior to building the stagecoach, Jim's hobby was restoring horse drawn vehicles. The stagecoach became his personal challenge to test his woodworking abilities. His goal was to produce a vehicle authentic as possible to the 1865 Abbot and Downing 9 passenger western style coach, produced by the Concord Coach Company located in Concord Massachusetts. The coach is familiar to most as a "Wells Fargo Stage", but due to trademarks this one is aptly named the Medicine Creek Stage Line.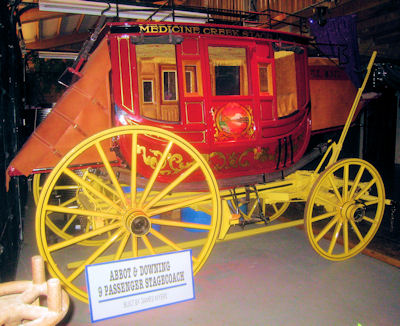 The Abbot and Downing stagecoach is designed to carry nine passengers, a driver and an armed guard. The coach weighs 2,200 pounds, stands ten feet tall and with one drawbar attached is twenty two feet long. The number of animals used to power the coach varied from two to eight with four to six being the most common. Additional drawbars were used when adding teams and the stagecoach could reach a length of eighty feet.
This type of stagecoach was used to deliver gold, people and freight during the 1860's gold rush era. Stage stops were located approximately ten to fifteen miles apart and teams would be changed at each location. The pace of travel averaged ten miles an hour. Each stagecoach operated much as a ship at sea in that the driver was the captain and had complete authority over all aboard. Passengers could be discharged from the stage at any time for behavioral problems, such as discharging a firearm, language offensive to a lady or spitting tobacco juice from the window. If a passenger chose to remain off the stagecoach at any point in the trip, they had to wait for someone else on a subsequent coach to allow them their seat in order to continue on. Each passenger was allowed thirty five pounds of baggage which was carried in the leather compartment at the rear of the coach. A pine strongbox was also carried under the driver's seat and was used to transport valuables such as gold bullion.
This stagecoach was displayed at the 2000 Western Washington Fair in Puyuallup and was awarded the Hobby Hall grand prize. Jim's stagecoach has survived the 1996 Nisqually river flood and the 2004 6.2 Nisqually earthquake. The stagecoach construction was recorded on videotape and Jim created a complete set of plans and templates.