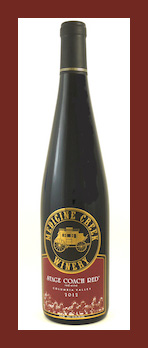 2011 Stage Coach Red
A blend of Cabernet Sauvignon, Cabernet Franc, and Merlot this wine expresses the best possible marriage of it's three components. Firm structure balanced with ample fruit delivers a beautifully balanced Bordeaux wine experience! Black cherry, licorice, plum flavors are complimented by notes of cedar, leather, and chocolate. Aging in French Oak barrels over a twenty four month period combined with one year bottle aging prior to release allowed tannins to soften for a silky smooth soft mouthfeel. Stage Coach Red won a Gold Medal at the 2010 Riverside International Wine Competition as well as winning a Silver Medal at the San Francisco 2010 International Wine Competition. A superior wine well suited for the educated palate.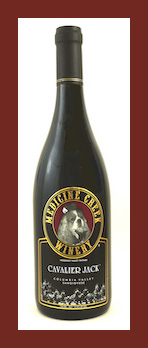 Cavalier Jack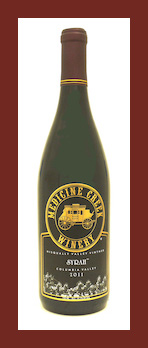 2011 Syrah
Bright fruit forward wine with flavors of currant, cherry, raspberry, and a hint of smokey plum combine to create this complex wine. A full mid palate and long peppery finish helped make this a bronze medal winner at the 2010 Riverside International Wine Competition!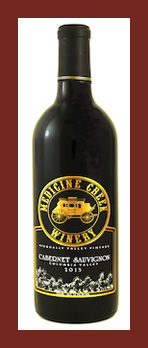 2013 Cabernet Sauvignon
Dark black cherry fruit with notes of plum, coffee, and leather combine to make up this complex wine. Cabernet Sauvignon fruit was sourced from Red Mountain, Goose Ridge, and Walla Walla then blended to produce Old World boldness and superior structure. French Oak barrel aging for 27 months combined with one year of bottle aging prior to release resulted in silky smooth tannins and a big round mouth feel.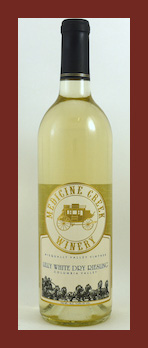 Lilly White Dry Riesling
Fini
A magical wine that was created by a unique set of circumstances during the 2006 harvest. A long, cool, dry, late harvest allowed the Merlot, Malbec, and Cabernet Sauvignon berries to hang on the vines an extra three weeks. During that time the flavors and sugars became extremely concentrated. The resulting dessert wine has an intense fruitful flavor and residual sugar which is perfectly balanced by enough acidity to have a beautiful clean finish. Fini means The End which is our suggestion for how to serve it with a meal. Paired with a warm chocolate brownie, rich vanilla ice cream this wine will amaze your dinner guests with it's raspberry, cherry, spicey notes. A truly special wine for a special occasion. Each bottle is personally hand dipped at our winery and packaged in a presentation bottle. This was a limited edition wine and only 58 cases were made. Fini is only available for sale at the winery tasting room.